Presentation Skills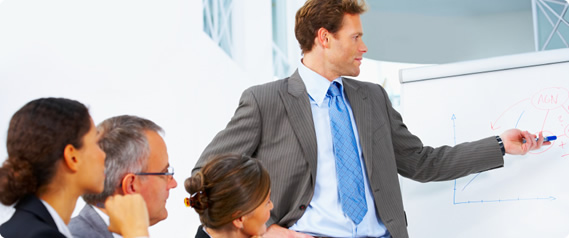 As many as 75% people have "glossophobia". Do you?
Glossophobia is the technical term for a fear of public speaking.
When you are asked to deliver a presentation;
Do you try to avoid them at all costs?
Do you feel nervous or even terrified at the thought of it?
Do you find it difficult to put a presentation together?
When presenting;
Does your throat dry up or does your voice shake like a leaf?
Do you get anxious or panic?
Do you speak really quickly and forget key elements of your message?
The good news is that you are not alone and help is available.
Delivering effective presentations is a skill that can be learned, practised and fine tuned.
Motiv8 Development understands that it's quite natural for you to feel nervous or even terrified when presenting. But we can help you conquer your fears using some very effective, practical techniques which you'll learn on our one-day "Presentation Skills" workshop.
Call Motiv8 Development on 01782 461223 or click here to contact us
What our clients said about the last "Presentation Skills" course
"The anxiety I used to experience before public speaking has been dramatically reduced to the point where I almost enjoy it now. Andy is an extremely knowledgeable presenter and always had valuable input at every stage. He has a plethora of invaluable tips, sensitively given, which have really made a big difference to my presentation skills. The interactive nature of the course, the nurturing atmosphere built with the other delegates, and layout of the classroom, all combine to work a big treat for me. Thank you."
"I was very nervous and apprehensive at the start because presenting to a room full of people filled me with fear. However, Andrew had such a calming influence and his way of training is such that he reaches everyone on all levels. He trained in a fun, simple and systematic way clearly demonstrating the skills needed to present ourselves and material in the best way possible. I learned so much in just one day and the course notes I have taken away are excellent. I would highly recommend the Presentation Skills course with Andrew and Carolyn at Motiv8."
"I found the training to be relaxed but very informative, the day was very well organised and the training materials used were very professional. It was great to interact with the other candidates and gaining feedback from the group was invaluable. Overall it was a great day and I would encourage any one who needs any type of training to contact Andy to see if Motiv8 can help."
Call Motiv8 Development on 01782 461223 or click here to contact us
Who it's designed for
People who want to take advantage and maximise their presentation opportunities.

Anyone who may be required to present to audiences as part of their job.

People who want to overcome their fear of presenting.

Anyone who wants to improve their presentation style.
What delegates will be able to do after the course;
Define the objective of a presentation.

Structure a presentation so as to deliver effective and powerful presentations.

Make the content relevant to your audience.

Handle nerves/anxiety.

Feel more confident when delivering their next presentation.

Prepare visual aids.

Build on the feedback received on own presentation style
Call Motiv8 Development on 01782 461223 or click here to contact us
When, Where and How Much
19th June, 2012

Britannia Stadium, Stoke on Trent, 09.30 – 16.30

£150 excl VAT

Places are limited so

book now >>
The last word from us...
We limit the number of places in order to maximise the learning experience.
For more information call Carolyn or Andy on 01782 461223 or email info@motiv8developent.co.uk.